With less than a month to go until the 2022 Stoneways VPRS national championships take place (30th April – 2nd May), we are excited to announce that Quay West Chandlers have joined up with us to sponsor the winner's prizes.
The 2022 Stoneways VPRS National Championships are taking place at the International Paint Poole Regatta. Organised by the combined yacht clubs of Poole, the popular race weekend attracts 1000s of sailors to Dorset for three days of friendly, but highly competitive racing.  This year's regatta is one of the first large events of 2022 having moved from its usual weekend to avoid conflicting with the Queen's Platinum Jubilee festivities.  With 18 classes racing, including IRC, Performance 40, Flying Fifteens, HP30 and Redwings, it is shaping up to be one of the highlights of the South Coast sailing calendar and the VPRS class will be out in force.  Teamed with the regatta's legendary evening socials, it is a highlight of the racing year!  If you haven't entered yet, visit www.pooleregatta.co.uk to find out more.
Whilst winning is certainly not everything… we are thrilled that Quay West Chandlers have agreed to supply an array of interesting prizes for the VPRS Classes, making the competition for those top spots even more intense!  Quay West Chandlery, based at Parkstone Yacht Club in Poole, is well known to all those participating in the regatta and is a vital lifeline for racing crews, with many a lost winch handle and more being replaced at the last minute!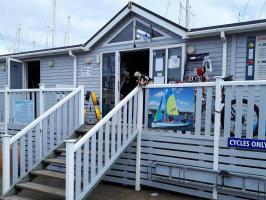 Pete Trew of Quay West commented
"We are delighted to be involved with the Stoneways VPRS Nationals, supporting competitors at Poole's principal yacht racing regatta.  It's wonderful to see the VPRS class going from strength to strength and attracting more and more boats from further afield".
With many local and visiting entries confirmed, the 2022 Stoneways VPRS Nationals looks to build on the successful 2021 nationals which were hosted by Lymington Town Sailing Club.  2021 saw close competitive racing with the lead changing hands multiple times right up until the finish line of the final race.  The 2022 Nationals sees two VPRS classes on two start lines, with a wide array of different boats entered.  The current field is made up of everything from a Beneteau First 33.7 to a Dehler 39SQ and an MG Springs 25. Poole Bay makes a spectacular location for racing, so this year's championships are shaping up to be even more exciting.
Watch this space for more information on the prizes, which will be presented this year by guest of honour Pip Hare, famed for competing in the 2020 Vendée Globe solo, non-stop round the world yacht race on Medallia.  Pip, who is based in Poole, gained a cult following thanks to her frank, awe inspiring videos and social media posts which captured the highs and lows of the race.
The Stoneways VPRS rating system was originally created for club racers around Poole Harbour, who were dissatisfied with the existing systems due to high costs or ineffectiveness.  It offers affordability and ease of access.  Further information can be found here: Stoneways VPRS – A racing partnership – Stoneways Marine Insurance.  For any boat owners who are thinking of entering the regatta but who haven't got a rating, Stoneways VPRS are offering a free rating valid only for the regatta, which will allow you to take part in the VPRS 1 & 2 classess.  Find out more here. Entry Information – Poole Regatta
Keith Lovett, Managing Director at Stoneways Marine said
"We recognise the importance of Stoneways VPRS in providing a cost effective, transparent yacht rating system, which is easy to use with club racers in mind.  The National Championship provides those who may not have raced before, along with longer standing VPRS rated boats, an opportunity to enjoy a friendly regatta in excellent sailing waters. The prizes from Quay West Chandlery, will provide a fitting conclusion to what we are sure will be a fantastic weekend of sailing, racing, and socialising".