Looking back on the highlights of the 2021 sailing year, in a season where many were enjoying being back afloat for the first time in 18 months.  One of the highlights had to be the Stoneways Marine YJA Gala dinner and Awards.  With a tantalising array of famous names on the awards shortlists, the team at Stoneways Marine were delighted to sponsor the ceremony for the first time.  This year it was held at the Grand Café, Southampton on Friday 10th September.  The annual dinner is not only a fabulous opportunity to catch up with members of the YJA and chat with the crème de la crème of the sailing world, but it also sees the crowning of the highly prestigious YJA Stoneways Marine Yachtsman of the Year, Young Sailor of the Year, and the new Young Journalist of the Year 2021 Award winners.
On sponsoring the event, Keith Lovett, Stoneways Marine Director and YJA member said: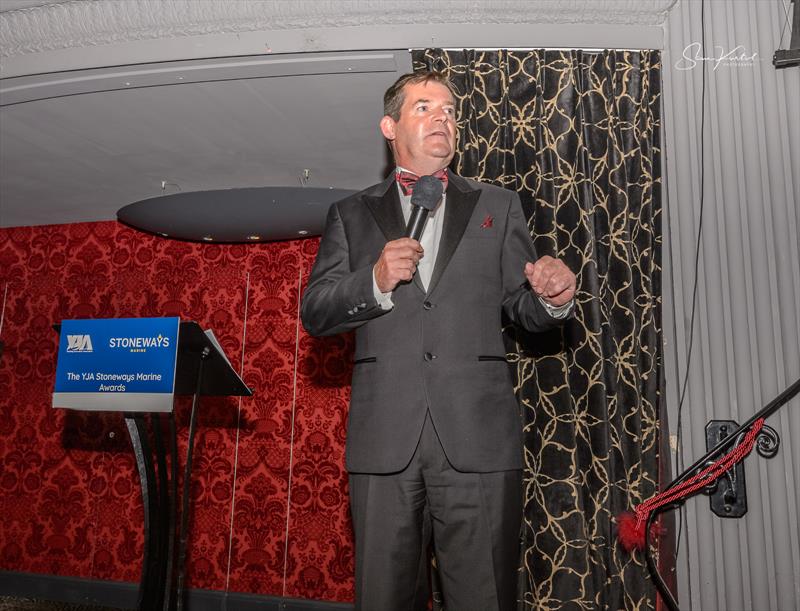 "We feel privileged to be involved with yachting's pinnacle awards event.  It was a great night and fantastic to see everyone face to face after such a long period of isolation.  It will certainly be remembered by all those who attended, with excellent food and an incredible group of sailing talent and yachting legends in attendance."
2021 was quite a year for sailing, with the Vendée Globe, the America's Cup, Sail GP and most recently, the Tokyo Olympics. Team GB were particularly successful this year, picking up an incredible three golds, a silver and a bronze, making GB the most successful sailing nation by far.  The Gala Dinner and Award ceremony attracted many of these Olympic medallists, some of whom brought their medals along with them.  The mood was understandably buoyant after 18 months without large gatherings and it was a fitting way to celebrate the extraordinary achievements of British sailors in 2020/2021.
After catching up with friends and colleagues at the drinks reception, sponsored by Boatlife, a delicious meal was enjoyed before the awards were presented.  Double Olympic gold medallist and YJA member Shirley Robertson OBE proved to be an excellent awards host, keeping everyone thoroughly entertained throughout the presentations.
YJA Stoneways Marine Young Journalist of the Year 
The first award to be presented was the YJA Stoneways Marine Young Journalist of the Year.  This is a new award introduced in 2021 to encourage aspiring journalists to start a career in the marine sector.
Tokyo 2020 49er gold medallist, Stu Bithell, presented the inaugural award to Katie McCabe, who wrote emotional and vividly descriptive blogs of her recently accomplished and record-breaking solo journey around Britain. You can find her blogs by clicking here.
YJA Stoneways Marine Young Sailor of the Year
The YJA Stoneways Marine Young Sailor of the Year Award was the next to be announced, with Stoneways Marine's very own Guy Prest presenting the award.  A presentation highlighting the achievements of each of the nominees, Katie McCabe, Lucy Kenyon and Millie Irish & Jess Powell set the scene, before the winner was revealed.  After an expectant pause, 14 year old Katie McCabe was announced as having captured the hearts of the YJA members who had voted for her to win for her recent anticlockwise sail solo round Britain on her 26ft Morgan Giles, Falanda.  A worthy double winner!
The young sailor and writer was understandably ecstatic about her historic double win, saying:
"We'd just come back from a boat festival and went to a yard, as I'd been looking for a boat for ages. I found this 71-year-old 26′ Morgan Giles yacht Falanda which was full of fresh water and had been out of the water for ten years and had a couple of rotten planks. I instantly loved the lines of the boat and her long, deep keel. We bailed her out, towed her back home, and the following winter I spent the whole time outside of school restoring her. I replaced the rotten planks, which I didn't know how to do so my dad showed me as he's a boat builder, then I had to replace the cockpit combings and a couple of bulkheads – lots of work and then all the varnish and paintwork.
I had the idea of sailing around Britain around two years ago having sailed to the Scilly Isles and back on my own with my parents following. That's when I thought 'maybe I can do it'.  I met fellow young journalist nominee Timothy Long on his way back round Britain and found out then I'd be the youngest person to do it if I did!"
 On the double win, and what it might mean for her future sailing, Katie said:
"I didn't expect to be nominated at all, and I see all these amazing sailors and didn't realise that anyone would know me. It was really, really cool. After this I'd like to get in to racing and might be considering the Mini Transat one day."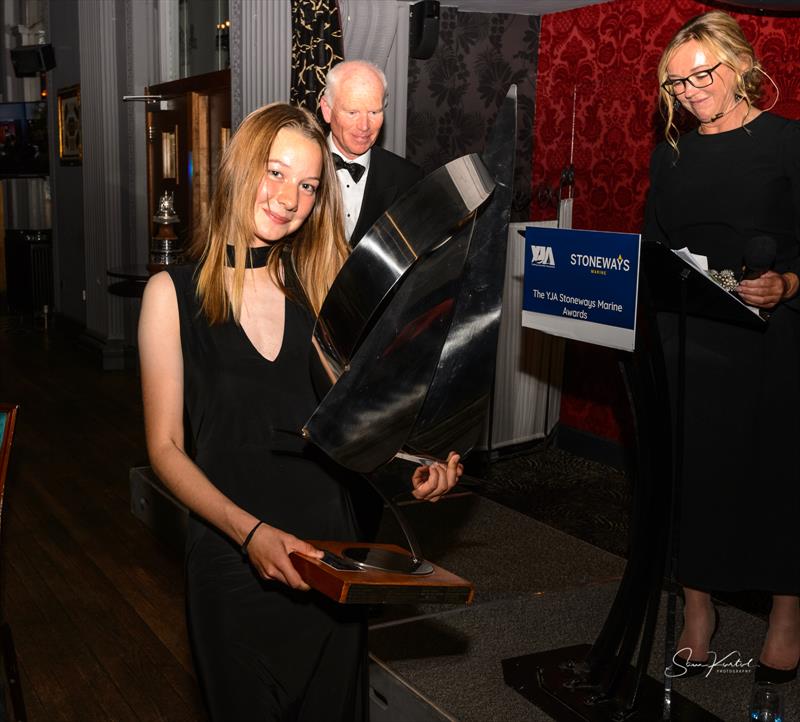 YJA Stoneways Marine Yachtsman of the Year
It was then time to announce the final award of the evening, the prestigious YJA Stoneways Marine Yachtsman of the Year 2021.  This famous trophy was created in 1955 by the late Sir Max Aitken, a Battle of Britain Spitfire Pilot and Chairman of Express newspapers.
The audience enjoyed an overview of the incredible achievements of the three shortlisted nominees: Hannah Mills, Pip Hare and The Team GB Olympic Sailing Squad – Tokyo 2020. Then the 2019 YOTY winner, Lucy MacGregor, was called upon to present the award to the winner.
With great anticipation, Pip Hare was crowned winner!
Regrettably Pip was unable to attend the ceremony and the famous trophy was collected on her behalf by her delighted Technical Director Joff Brown and her Operations Director Lou Adams.
Pip is the Vendée Globe star who captured all our attention over the winter with her incredible sailing in the famous non-stop, solo around the world race.  Her fan base growing, in no small part, due to her frank videos sharing the powerful details of the highs and lows of her first Vendée adventure.
Pip recorded a special video message in advance of the ceremony and, on hearing that she'd won the YJA Stoneways Marine Yachtsman of the Year, said:
"Wow! I've always felt like a bit of an outsider in the sailing world because there is no kind of accepted performance pathway into solo sailing in the UK – you've got to go off and do it on your own and make it all happen. To receive this award is the validity that I really wasn't expecting.
I'm really pleased a wider audience engaged with the Vendée Globe because it's an incredible event on many levels and is so much more than just a sailing event. It's a proper, hardcore, endurance event and is special for so many reasons. Having that platform to share our stories during the winter was important, and I hope the traction sailing gained continues and it helps the sport grow."
She was also full of praise for her fellow shortlisted sailors:
"Our Olympians are amazing, and we regularly produce the most incredible sailors. What Hannah has achieved is unrivalled – it's amazing and I really enjoyed watching the Olympic sailing this summer and to be shortlisted amongst these great sailors was an incredible honour, and then to actually win the award was unexpected."
Pip also had a message for all aspiring sailors who may be looking into solo offshore sailing:
"I am 47 years old – don't ever believe that it's out of your grasp. Just keep trying, keep trying, keep trying. One of things I love about sailing that I think we don't always acknowledge is that it's one of the most diverse sports out there. There is a kind of sailing for all people, regardless of age, background, gender, or ability. Sailing is so adaptable as a sport and offers so much to so many people and there isn't one right way to do any one thing. Anyone, anywhere can benefit enormously from getting on the water!"
Huge congratulations to Pip and Katie on their well-deserved wins!  We wish both of you all the best and look forward to following all your future endeavours. You can find out more about Pip's future plans by visiting her website.